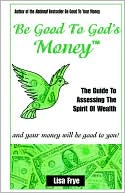 #1 NATIONAL BESTSELLER
Selected by Forbes Magazine Book Club
ISBN: 978-0-9726032-0-1
From the bestselling author of Be Good To Your Money comes the most controversial Christian book since The DaVinci Code.
Has money caused the church to lose it vision?
Are you being accountable to God with the money he has entrusted you with?
Are you seeking God's financial plan, for you, from across the pulpit or from God?
If your finances could talk, what would they say?



As Christians, we worship a God that has promised us riches, abundantly. Yet, Christians are the #1 group in bankruptcy court. Our finances are an embarrassment, to our Heavenly Father. We are living in a day, where ministers are in court for deceptive money practices. Churches are being
Where is God's vision? Be Good To God's Money encourages Christians to seek God, through prayer, study, and meditation, for His financial plan for your life. We, all, will be accountable for the life we live and the money we give. In all things, seek God first and know that His vision is connected to your wealth.